Creamy 3 Cheese Quesadillas
Margie99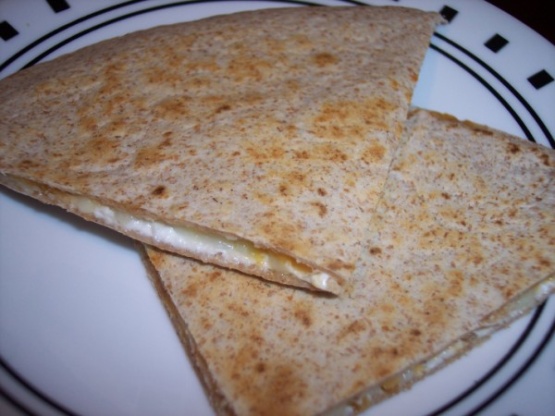 I was feeling creative one day and came up with this. I admit I didn't really measure my ingredients, but this is the best estimate I came up with. :) Also, I used the garden vegetable low-fat cream cheese, but I'm sure some of the other flavored ones could be good too... [chive and onion, garlic and herb, etc.] Enjoy!
Melt butter in skillet.
On one half of each tortilla, spread 2 tbsp of cream cheese, then sprinkle 2 tbsp of mild cheddar, followed by the mexican blend.
Fold tortillas over to make half-moon shapes.
Place in skillet and cook until both sides are slightly browned to your liking.
Cut in half and enjoy!