Creamsicle Cake - Jello Cake
Prep 15 mins
Cook 25 mins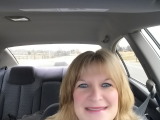 This is a very tasty cake. It is so moist. It is a family tradition at my house.
Directions
Bake cake as directed in 9x13 inch pan.
When done, use fork to punch holes around the entire top of cake.
Let cool.
In bowl, mix 1 box gelatin, 1 cup hot water, and 1 cup cold water. Allow the gelatin to thicken.
Pour over the top of cake and refrigerate 2-3 hours.
Mix remaining box of gelatin, pudding, milk and vanilla together.
Beat well.
Fold dessert topping into mixture and spread on top of cake.
Keep refrigerated.
If you cannot find orange cake mix, use a box lemon and add 1 small envelope of orange drink mix (kool aid) to the batter.
Most Helpful
This cake is light and incredible! I brought it to work and my co workers scarfed it up! I also tried it with lemon cake mix and lime jello...only unfortunately I wasn't as focused as I should of been, so the jello started to set! YIKES...I was horrified, but I whipped it and used it anyway...and we had a glorious cake striped with congealed lime jello. So DON"T panic if it happens to you...it can work out!
This cake is good. Made it last night for dessert and had a slice but It really didn't do anything for me until this morning. I was making my lunch and decided to bring a slice with me. After cutting into it there was a little left on the knife. You would have thought I was tasting it for the first time. I wanted to dig right in right then and there! Maybe I just wasn't in the mood after smelling it cook and mixing everything together but this morning was a whole different story. Great cake and easy to make! Thanks for posting!
MMMMM...GOOD!! This cake is delicious and very light. I highly recommend it. I think I will make it with strawberry jell-o and strawberry cake mix and garnish with strawberry halves.