Creamless Celery Potato Soup
Parsley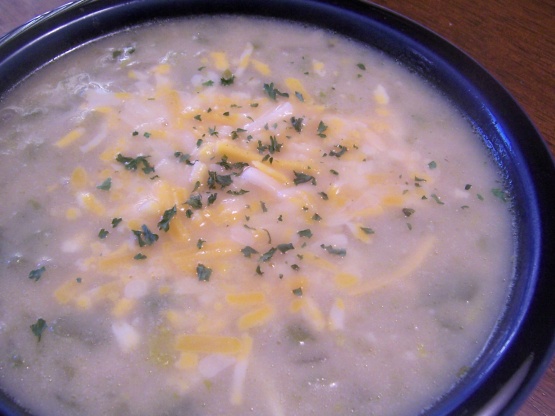 A very quick and easy amazingly low in carb soup for potatoes that is low in fat. Great tasting and low in fat and calories

Needed salt and pepper, but otherwise a good recipe. I used rice milk in place of regular milk.
Heat oil in large saucepan over medium-high heat until hot.
Add celery, potatoes, onion and garlic; cook and stir about 5 minutes or until celery is crisp-tender.
Add broth; bring to a boil.
Reduce heat and simmer, uncovered, about 10 minutes or until potatoes are fork-tender.
Place half the soup mixture in food processor or blender; process until smooth.
Pour into remaining mixture.
Stir in milk, water and mustard; heat 1 to 2 minutes until hot.
Sprinkle with shredded cheese.