Creamless Cauliflower Leek Soup
stayreal2me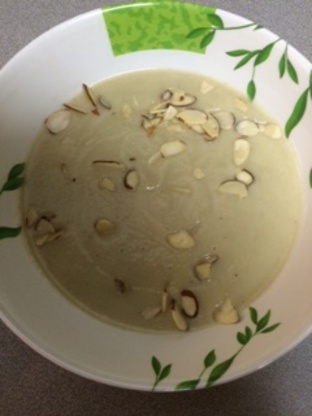 This is a really rich and great tasting soup that does not contain cream. If you want to add a cup of cream to it to up the decadence factor, you can. It's easy to make with an immersion blender.

Excellent recipe. Easy, very flavorful, loved the leeks in them. Made it exactly to directions with one exception, I used fresh thyme. I didn't need to add the oatmeal because I had a huge head of cauliflower and it was very creamy. I did however add 1/2 of a baked potato leftover in the freezer. I always freeze them when left to add to soups or stews - so I threw it in, but it didn't change the flavor. I even used the fresh lemon which was a very nice touch and garnished with scallions and some of the lemon zest from the lemon I used. Just a sprinkle for a little flavor along with a sprig of fresh thyme. Loved it. Perfect soup. Thx, Kim
1. Heat the olive oil and butter in a large pot over medium heat, and saute the leeks, cauliflower, garlic, and thyme for about 10 minutes. Stir in the vegetable broth, and bring the mixture to a boil. Reduce heat, cover, and simmer 45 minutes.
2. Remove the soup from heat. Blend the soup with an immersion blender or hand mixer. If the soup is too thin, add oatmeal to thicken. Season with salt and pepper, and lemon juice, if using.