JustJanS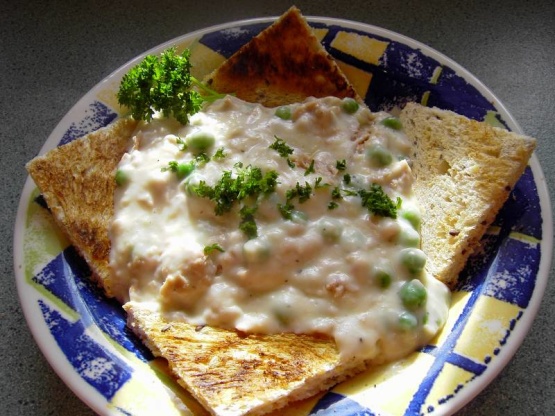 Well, my goodness, I thought my husband was going to eat the plate!! I made the recipe for 4 for the 2 of us and I had my serving and he ate the rest! It is really creamy and so good. So easy to make for a fast supper. We both loved it. I served this with a side of buttered noodles. Thanks BarbaraK!!
1⁄4 cup margarine
1⁄4 cup flour

2

cups milk

1

can drained tuna fish

1

cup frozen peas (or to taste)
salt and pepper
bread (for toasting)
Thaw frozen peas in a collendar.
Melt the margarine in a saucepan.
Add the flour and blend.
Add the milk, stirring constantly to prevent clumping and stir until creamy.
Add the tuna, peas, salt and pepper and warm through.
As the tuna is warming, toast bread.
After toasted, cut in triangles and spoon tuna mixture over the toast.