Parsley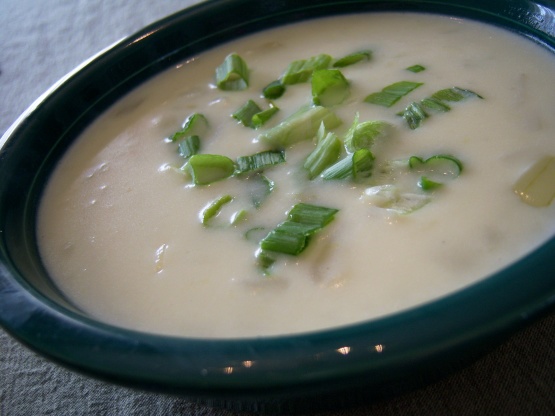 A touch of garlic and an accent of nutmeg give this potato soup a different and exciting flavor. It is excellent served hot or chilled, as a first course or in large bowls it is a delicious main course for a lunch or supper. Deliiossso!!!

Top Review by Wiffi
This is a lovely soup. It's smooth, delicate and silky. I have several potato soup recipes that I make over and over, and this is one of them. If you're looking for strong bold flavors, look somewhere else, but if you want a soup that is subtle in flavor; you've found it! I used 1 cup of coconut milk and 3/4 cup of coconut creamer to make it dairy free. Enjoy!
Cut potatoes into eighths, cut onions into eighths. Coarsley chop the green onions. Add along with the garlic to the butter in a heavy 3-quart saucepan. Add onion to butter and saute for 1 minute Add the potatoes and pour in the broth.
Simmer for 20 minute or until potatoes are tender.
Puree soup in food processor or blender in batches that will suit the size of the appliance you are using.
Add cream, milk, salt, pepper and nutmeg to soup. Chill if served cold, reheat to servign temperature if served hot.
Garnish servings of hot soup with croutons, cold soup chopped chives.