Annacia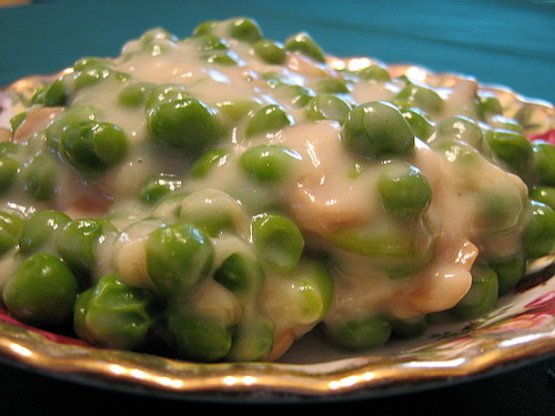 These peas are delicious served on toast! You could make this using half and half cream or 18% table cream although it will not be a creamy. If you are using water, then you might want to add in 1-2 teaspoons chicken bouillon powder to the water when boiling but that is optional. This complete recipe may be doubled.

This is quite good and DH loved his first helping of creamed peas! I prepared the recipe mostly as written except that I used a little more broth because I wanted to boil some pearl onions before proceeding with the recipe. I decreased the sugar to a teaspoon, too. This is a great recipe that can be changed up many ways. I love creamed peas and onions but it would also be great with potatoes, too. I might even try frying up a little curry powder in the butter before I add the broth and vegetables. Lots of possibilities here! Thanks for another great recipe.
In a medium saucepan combine the peas with chicken broth or water; and garlic powder (if using) bring to a simmer then add in butter (do not drain the broth or water).
In a small bowl whisk together whipping cream with flour and sugar until smooth then add to the peas; cook stirring over medium-high heat stirring/whisking constantly until thick and bubbly (about 4 minutes).
Mix in Parmesan cheese (if using) then season with salt and pepper to taste.