Parsley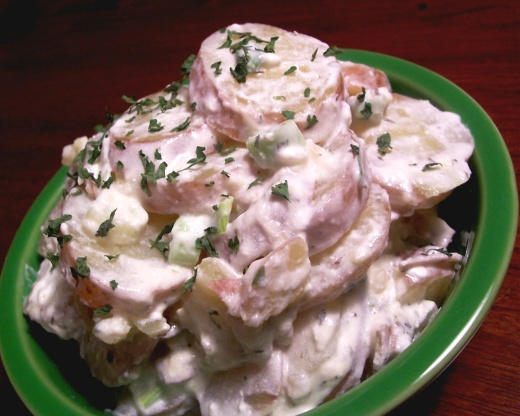 So creamy and so good! I use fresh thyme and tarragon. I think this came from an old TOH.

Nice recipe - used little new red skinned-yellow fleshed taters & full fat buttermilk. Wonderful flavors & mouth feel. Used dried herbs - will make again using fresh when the tarragon is larger & thyme is spreading wildly. Came together fast - would make a great side for fish, fowl or even pork. Had it tonight with braised kale & no meat - awesome too! Thanks for a delicious recipe using my old friend buttermilk in a new way.
Place potatoes in saucepan and cover with water; add salt.
Bring to a boil; reduce heat and cover and cook for 15-20 minutes or until tender.
Meanwhile in another saucepan, combine the cream cheese and buttermilk; cook and stir ove rmedium heat until cheese is melted and mixture is smooth.
Remove from the heat and add the onions, thyme, tarragon and pepper.
Drain potatoes and place in a serving bowl; add cream sauce and toss to coat.
Sprinkle with parsley.