Creamed Mushrooms on Toast
Rita1652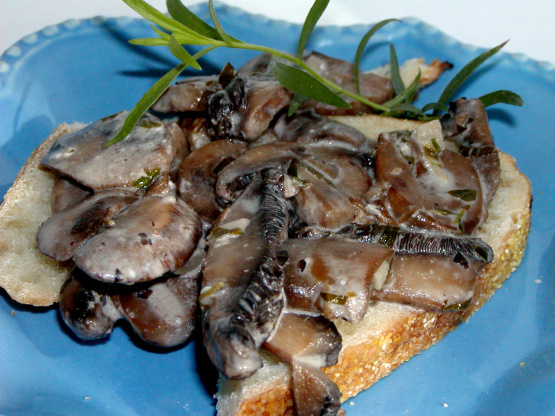 Delicious garlicky, lemony creamed mushrooms for those lazy weekend breakfasts when you are not constrained by the need to be out the front door as soon as possible. These creamed mushrooms could also be used as a topping for meatloaves, steaks, chops or steamed vegetables, or as a sauce for pasta. It also makes a tasty supper on nights when you get home too late to really feel like making or eating a full meal. I have no idea now where I got this recipe from originally. It's been in my recipe files for years. My mother used to cook mushrooms like this when we'd been mushrooming, and she tells me that her English grandmother, who was from Kent, used to make something similar.

I made half this recipe, using a combination of royal trumpet and white mushrooms. I served this over steak and mashed potatoes, and I think I would use balsamic vinegar rather than lemon juice for this type of use next time. I think the lemon would be very good with veggies, poultry, fish.... I also used some of the juices/oil from the pan grilled steaks instead of butter, which worked really well. Used parsley and fresh thyme, as that's what I had available. Mother made something similar, but with no herbs or cream - this is a very nice variant.
Melt the butter in a sauté pan, add the garlic and sauté for 1 or 2 minutes.
Add the mushrooms to the pan and continue to sauté, stirring continuously for 3 minutes until the mushrooms have softened. Keep a careful eye on the garlic to make sure that it does not brown.
Add the lemon juice and cook a further minute.
Gradually add the light cream and cook gently until the mixture thickens.
Add salt and pepper to taste, and the chopped parsley, oregano and tarragon.
Divide mixture among hot toast slices.
Garnish with tarragon leaves and serve immediately.
Or, if using as a topping or sauce, add to meat, vegetables or pasta just before serving - or serve it in a separate jug.