Ms B.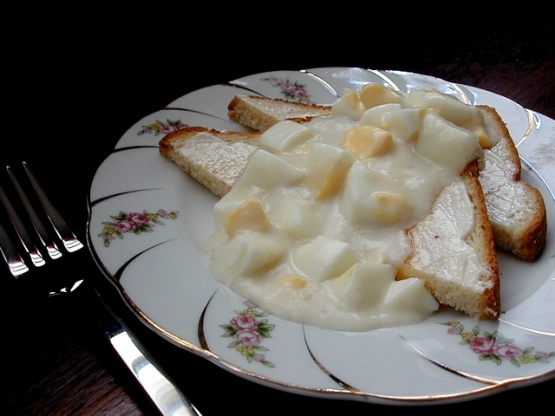 My mom made this on special days for breakfast. It was a family favorite growing up. Now I make for my hubby on those "special" days that I want to say he's tops in my book. You may wish to double this recipe for big eaters or if no fruit and meat accompany the meal.

I grew up eating this dish as well. I am the only one left who eats it , so it is now a dish I only eat on Easter morning. The only thing I do differently is I keep the yolks seperate ,crumble them in a bowl ,and cover the entire top with a dry yolk mixture. Awesome readers should try this dish.
Melt butter over medium-high heat.
Whisk in flour.
When bubbly, whisk in milk a little at a time.
Add salt.
Continue to whisk til thick and bubbly.
Remove from heat and add chopped eggs.
Toast and butter slices of bread.
Lay slices on individual plates and spoon on Creamed Eggs.
Serve.