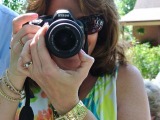 My family loves canned creamed corn but I can't stand it. I finally came up with this recipe so we could all get along at supper. LOL!
Directions
Cook corn according to package directions; I use the microwave.
Melt butter in saucepan, stir in flour and blend well.
Add milk, about 1/2 cup at a time, and blend with whisk.
Cook over medium heat until thickened.
Stir in sugar, salt and pepper.
Add cooked, drained corn.
Hint: sometimes I use part milk, part cream.
Reviews
Most Helpful
Very delicious and simple! I followed the recipe exactly, just used 1 cup 2% milk and 1 cup regular milk, cooked chopped onions w/the corn, and the dish was still rich and creamy. Also for a little color, sprinkled a little smoked paprika on top. Will definitely use again!
I substituted bacon grease for the butter as I was using it in Alton Brown's corn dog recipe. It was tasty. My husband, who does not like canned creamed corn even liked it! Thanks

The family loved this at Thanksgiving. This is going into my recipe files. Thanks for sharing this easy, basic, and good recipe.
Thanksgiving Tips & Ideas >