Creamed Chicken With Mushrooms and Peas on Toast
Annacia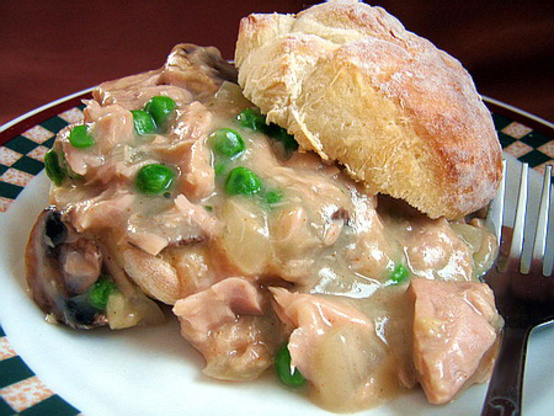 This is an easy meal that can also be topped onto baked puff pastry shells, biscuits or rice, you can make this using leftover turkey in place of chicken, the onion and garlic may be omitted if desired, I like to add it in for extra flavor, this recipe may easily be doubled, servings is only estimated.
4

tablespoons butter

7 -9

medium fresh button mushrooms, sliced

1

small onion, chopped

1

tablespoon fresh minced garlic (or to taste)

4

tablespoons flour

1

pinch cayenne pepper (optional or to taste)

2

cups canned chicken broth, undiluted

1

cup whipping cream, unwhipped
1⁄3 cup parmesan cheese (more for top if desired)

1

tablespoon chicken bouillon (or to taste)
1 1⁄2 cups shredded cheddar cheese
2 1⁄2 cups cooked chicken, cubed (or use cooked turkey)
2⁄3 cup frozen peas (or use corn)
salt (to taste, Iuse seasoned salt)
black pepper (lots of black pepper)

4 -6

slices Texas toast thick bread, toasted
In a large skillet over medium-low heat, melt butter.
Cook the butter stirring with a wooden spoon until golden brown.
Add in sliced mushroom; cook until all the moisture is released.
Add in onions and garlic; cook stirring for about 3 minutes.
Add in flour and cayenne pepper and cook stirring with a wooden spoon for 1 minute, then slowly add in broth and stir with wooden spoon until thickened.
Add in whipping cream, Parmesan cheese, chicken bouillon, cubed chicken and peas.
Reduce the heat to low and cook stirring until heated through and thickened.
Add in cheddar cheese and stir until melted.
Simmer for about 20 minutes over low heat stirring often.
Season with seasoned salt or white salt and black pepper.
If you would like a thicker sauce just mix 1-2 tablespoons flour in 1/4 cup milk until smooth and add to the simmering sauce.
Divide the mixture onto the toast, then sprinkle with more Parmesan cheese if desired.