Cream Soup Mix (Replacement for Cream of ___ Soups) Substitute
lynmoz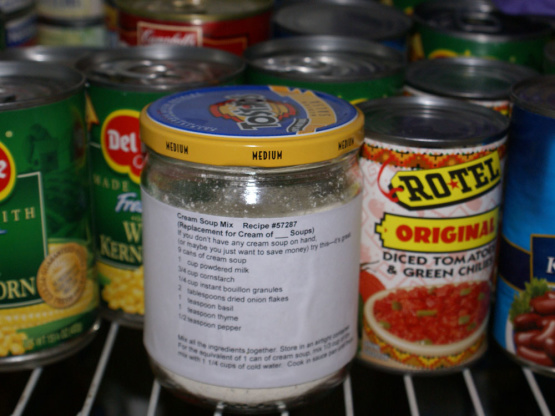 If you don't have any cream soup on hand, (or maybe you just want to save money) try this—it's great.

This is an excellent replacement for the high sodium canned soups. I did make one change however. I like to have diff flavor soups on hand but do not have a whole lot of space to keep diff flavor bases, so I omitted the boullion and instead use either chicken, beef, or veggie stock instead of water when cooking up a batch. This was neccesary for me as well because I think instant bullion has a very salty flavor to it, not to mention it is expensive. Thanks for a keeper!
Mix all the ingredients together.
Store in an airtight container.
For the equivalent of 1 can of cream soup, mix 1/3 cup of dry mix with 1 1/4 cups of cold water. Cook in sauce pan until thick.
Entire recipe makes the equivalent of nine cans of cream soup.