Jen T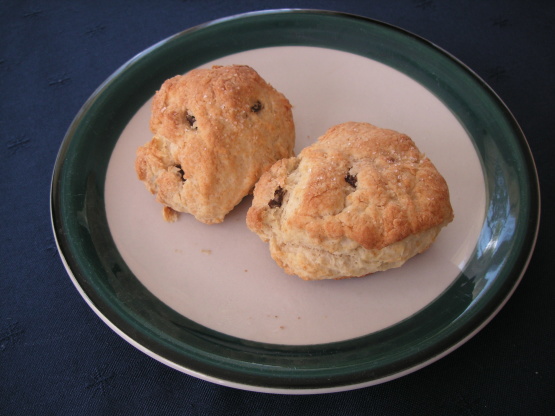 Top Review by Jen T
I stumbled upon this recipe while searching for scones using cream and I am pleased I did. I only had 1/3 cup of cream and so it was just right. As there are just the two of us I didn't want to make a big batch as I would eat far too many :) These were just like my mother used to make many moons ago :) I used sultanas and topped them with some blueberry jam to serve. Thanks for a real keeper. This recipe makes 4 scones and halved would serve 8 if everyone just had a half which I seriously doubt would happen as they are so light and yummy.
Sift dry ingredients into a bowl.
Add milk and stir until almost combined.
Add cherries and finish mixing until just combined.
Divide dough into 4 rounds on parchment covered baking sheet.
Sprinkle with sugar just before baking.
Bake at 375°F for 15-20 minutes.