diner524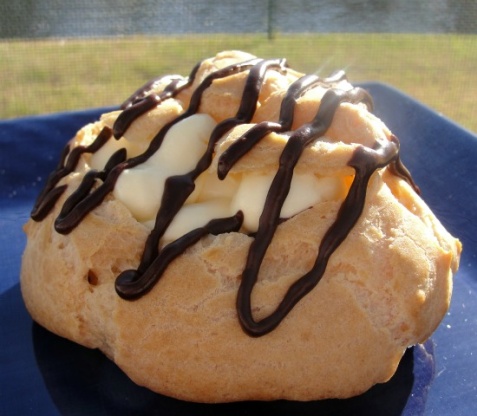 From Janean Underwood at Madison Middle School.
Oh my, are these ever delicious!!!! I had never made cream puffs and they were quite easy to make and they taste so yummy!!! I followed the recipe for the pastry but did bake it for about 20 minutes and then went and slit the tops in several places and then continued to bake for another 10 minutes at 300 degrees( to make sure they didn't sink/collapse). For the filling, I made a small box of vanilla pudding mix with 1 cup cool whip and 1 1/4 cups milk. For the chocolate glaze, I melted 1 Tbsp butter and heavy cream with 1/2 cup semi-sweet chocolate chips and 1 tsp light corn syrup. Really had a good time making these wonderful pastries and they are so good!!! Thanks for sharing the recipe and congrats on your win in the football pool.
Preheat oven to 450*. In small pan, boil water, add margarine and stir until melted. Add flour and salt all at once, stirring until mixed. Cool for 1 minute, then add eggs one at a time. On a greased cookie sheet, drop about 2" apart. Bake for 10 minutes at 450*, then 15-20 minutes at 400*. Let cool. Make a slit in the side and fill with whipped cream.