Saturn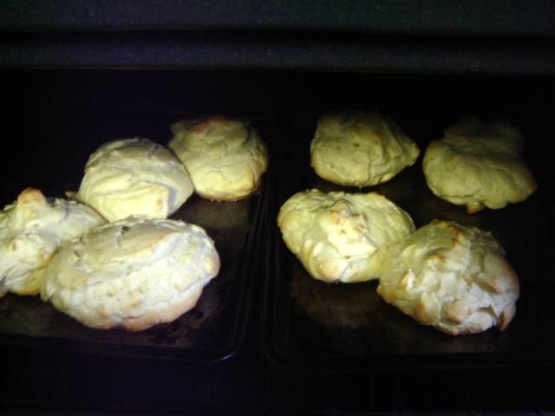 Good old Bisquick makes a surprising appearance disguised as a cream puff. As with other recipes of this type, your beating arm will get a workout thus burning up calories. So, now you can eat 2! You've earned them!

Top Review by Saturn
Wonderful! Amazing! Tiring! There definitely is an arm workout in this one! I LOVE them though so it is worth every second. There is no taste of Bisquick. That is impressive. This is a great "I-have-no-money-but-I-need-to-impress-someone-recipe"!! Lovely! Thank you so much for a great recipe to add to my repertoire!
Heat oven to 450º.
Coat a large baking sheet with cooking spray or grease as you prefer.
On stove top, bring water to boil in a 2 quart saucepan.
Add baking mix, stirring vigorously over medium-high heat until mixture leaves sides of pan and forms a smooth ball.
Remove from heat and cool 4-5 minutes.
Add eggs one at a time beating thoroughly after each addition. Beat until smooth.
Spoon dough onto prepared pan, making 8 mounds, 3 inches apart.
Bake for 15 minutes. Reduce oven temp to 350º and bake an additional 15 minutes or until sides of puffs are crisp and golden.
Turn off oven; let stand in oven with door slightly ajar for 10 minutes.
Cool completely on wire racks away from drafts.
To serve, cut puffs in half & fill 8 halves with ice cream. Replace tops and serve with assorted fruits, sauces and toppings of your choice.