Cream Pasta Sauce With Zucchini
Ms B.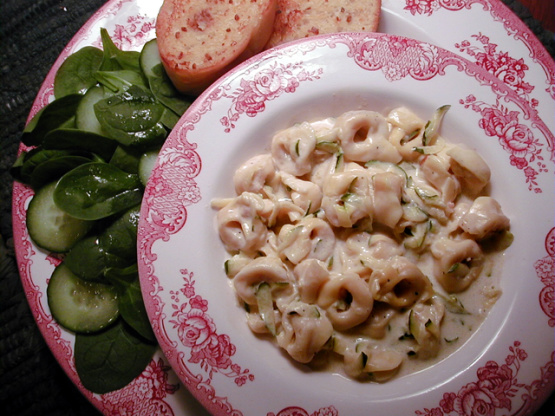 This is AWESOME pasta sauce! Much different than alfredo-ish sauces, which I don't like. This one could be healthy, depending on which ingredients you use. I found the original version of this in a cookbook I received as a gift, but this is very different from that recipe.

My DH doesnt care too much for zucchini, but he loved this dish served over spaghetti; the only change I made was to saute the julienned zucchini with the garlic prior to making the sauce. I have made this twice in three days..thanks for sharing.
Melt butter in saucepan.
Cook minced garlic in butter for 3-4 minutes or until soft.
Stir in flour; cook for one minute, stirring constantly.
Add sour cream, milk, and lemon.
Cook until heated through.
Add zucchini, and cook just until bubbly.
Add to pasta (I use this with my tortellini recipe).
Add parmesan and black pepper to taste.