Dotty2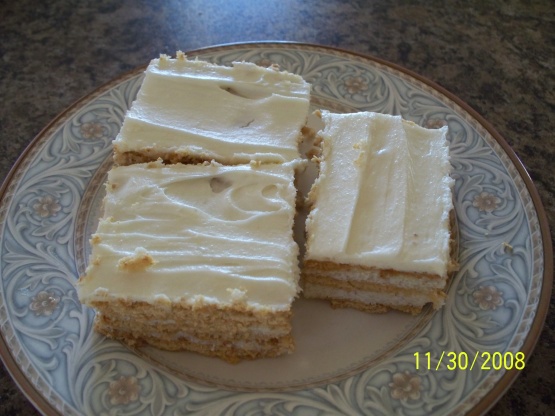 A recipe that was recommended by a friend who had published a cookbook. It was her family favorite and now a dainty that we love .A very tasty,simple square that only takes minutes to put together.,not a lot of prep time required. We love it plain although many variations can be made such as sprinkling the top with nuts,adding cherries or topping with strawberries or sauce. The list is endless. Everyone will be wondering what the filling is. Enjoy!
473.18

ml milk

118.29

ml cream of wheat (hot cereral)

177.44

ml butter, softened (or margarine)

177.44

ml sugar

4.92

ml vanilla
graham wafers, about 50 single enough to cover the pan in 3 layers
cream cheese frosting, using your favorite recipe see note in directions
Stir the Cream of Wheat into the milk . This mixture can be cooked in the microwave on medium for 4 minutes until thickened,stirring every minute, or cook in a saucepan on top of the stove on medium heat,but stir continually to prevent lumps or sticking to the bottom of the pan until thickened. It will thicken once it comes to a slow boil.Mixture will thicken more as it cools.
Allow the mixture to cool.
Beat together margerine, sugar and vanilla.
Add to the cooled mixture and beat until well blended.
In a 9X13 pan,arrange a layer of graham wafers.
Top with a layer of half of the cream of wheat mixture.
Top with a second layer of Graham Wafers.
Add the rest of the Cream of wheat mixture.
Top with a third layer of Graham Wafers.
Top this layer of Graham wafers with Cream cheese icing .using your favorite recipe but I recommend halving a recipe which would use only 4 ounces of cream cheese rather than 8 ounces so the icing is not to thick on top of the square. Store in fridge.
Best when prepared a day ahead of serving,allowing the Graham wafers to soften.
Note: servings depends on Square size.
.Hot mixture can be cooled by placing in freezer stirring every few minutes. Cooking time is cooling time.
Note: these squares can be frozen BUT the Graham crackers will be really quite soft. They can still be sliced without a problem.