Redsie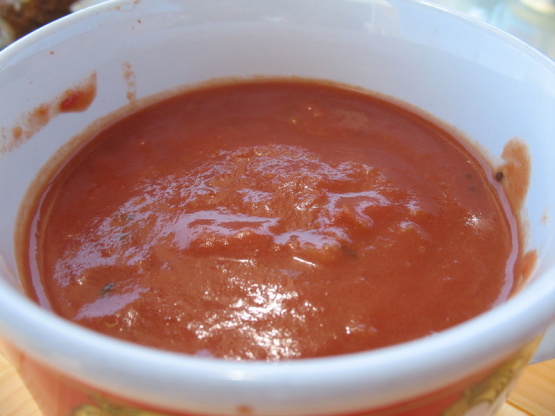 Warm up with a yummy, creamy tomato soup. This recipe is quick and tasty and will beat out soup from a can any day. Perfect with grilled cheese sandwiches.

Delicious and easy. My daughter loved it, too. So much better than soup from a can. We will be making this again. I used a can of diced tomatoes, and put about 3/4 of the soup in the blender and left the remaining 1/4 unblended. So creamy smoothness with some chunks and texture. MMMM. :) We got a generous 8 cups of soup from this recipe.
In a large pot, melt butter. Add onion, garlic, carrot and red pepper and cook 3 to 5 minutes, until vegetables are softened and proscuitto is crisp.
Stir in flour and cook an additional 1 to 2 minutes.
Add canned tomatoes, broth, tomato paste, spices and sugar. Bring to a boil. Reduce heat to low, cover and simmer 15 minutes. Remove and discard bay leaf.
In a food processor or blender, in batches, puree soup (optional.) Return to saucepan and stir in half-and-half. Season with salt and pepper to taste and heat an additional 3 to 5 minutes.
Serve.