Cream of Tomato and Horseradish Soup
Parsley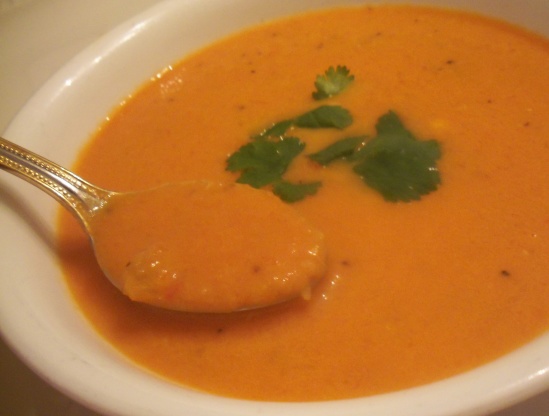 This is based on good old-fashioned cream of tomato soup but it tastes a lot better than the canned variety. Make it the day before, then reheat when you want to serve.

Excellent use of the beautiful dead-ripe tomatoes in my garden. I halved the recipe, added a bay leaf, as I believe that enhances any veggie soup, and diced up a couple of beauties from latest haul. I used half-and-half instead of whipping cream, which worked very well. I cannot say that I really noticed the horseradish (and I used plain prepared horseradish, not creamed), but the celery really enhanced the flavor. And when you factor in how quickly this is made - well, a winner all round.
Melt the butter in a large saucepan and cook the onion and celery for about 10 minutes until softened.
Add the garlic and cook for a further few minutes. Add the tomatoes with the sugar, broth and a good pinch of salt and ground black pepper. Bring to the boil and cook for 15 minutes then liquidize.
Stir in the horseradish and the cream and gently heat, taking care not to let the soup boil. Taste for seasoning.