Cream of the Crop Celery Soup
Parsley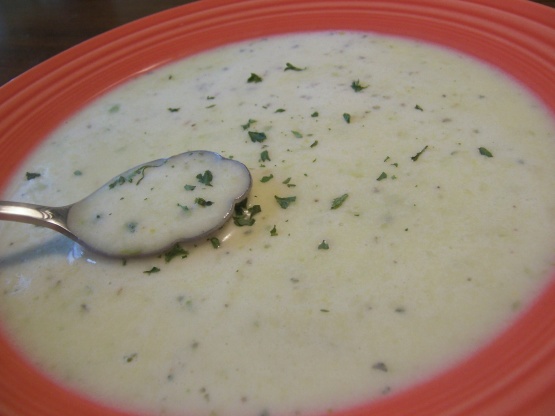 Homemade soup that doesn't take all day to cook! With the addition of Brie cheese, this soup is a winner!

I'm sorry, but this was very bland. I was expecting it to be rich with the brie, but it was lacking in flavor. I think it's a really good base, but next time I would add garlic and use chicken broth for the entire liquid equivalent instead of water.
Saute onons and celery in butter in a Dutch oven until tender.
Add water, broth, and potato; cover and cook over low heat 15 minutes or until potato is tender.
Pour half of soup mixture into container of an electric blender; process until smooth.
Repeat procedure with remaining mixture, returning pureed mixture to Dutch oven.
Remove skin from Brie; add Brie, milk, and remaining ingredients to Dutch oven.
Cook over medium heat, stirring constantly, until cheese melts and soup is thoroughly heated.
Yield: 5 cups.