Cream of Sweet Potato Soup (Crema Di Papata Dolci E Gabretti)
Carianne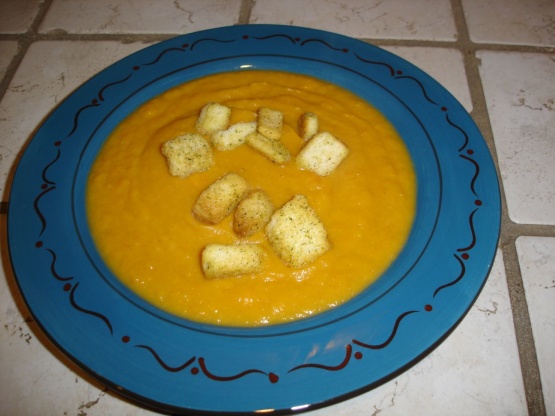 Another great-looking sweet potato recipe from the Chicago Tribune, this one comes from Massimo Salatino, corporate chef for Francesca Restaurants.

Hey Jude, this is DELIGHTFUL! I had several cups of sweet potatoes leftover from recipe#267920 and they were already seasoned. I followed your recipe & added all the ingredients except the cinnamon. I also subbed a yellow onion for the leek. This is amazing! I'll serve it up with some leftover Christmas ham and we're good to go! Thanks you for truly delicious soup Jude! YUM!
Combine oil and butter in a large saucepan over medium heat; add garlic and leeks; cook, stirring frequently, until they release their flavors, about 5 minutes; add sweet potatoes, carrots, broth, cumin and cinnamon; heat to a boil, reduce heat to a simmer; cook until vegetables are tender, about 5 minutes.
Puree until smooth in a blender or food processor; return soup to saucepan.
Stir in cream, salt and pepper to taste; garnish with chives and croutons.