Cream of Soup Substitute Mix
KateL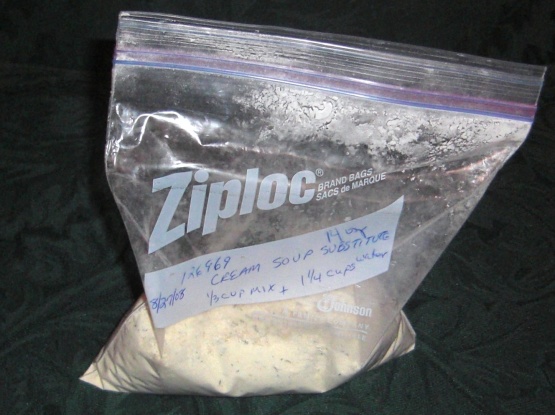 From my "Heart Healthy Cookbook" of delicious healthy recipes from Edina, MN in 1995. Make 9, 10 ounce cans of soup. This is much less expensive and contains far less sodium than canned soups. Add sautéed chopped mushrooms, chopped celery, or bits of cooked chicken to resemble the cream soup you usually use.

This is a terrific and easy sub. I keep a bag of this in my pantry now. I usually don't even bother to add the mushrroms or celery or chicken.....or whatever was supposed to be in my "cream of ...." . Every recipe I have made with it has been great and I am very happy to do without all of the sodium.
Mix all ingredients together in a medium bowl and store in an air-tight container.
To substitute one 10 3/4 ounce can of cream soup, use 1/3 cup mix plus 1 1/4 cups water.
Combine in a medium saucepan and cook until thick.