Cream of Shiitake and Corn Soup
msmia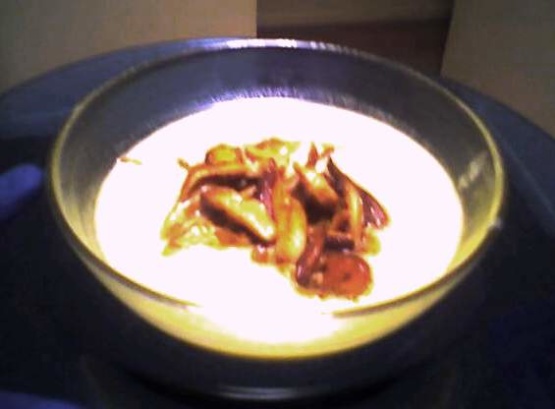 I found this recipe in the october 06 edition of magazine Châtelaine Québec. I veganized it. Not tried yet, but i guess this is yummy.
Top Review by msmia
Made for Pick a Chef '06 Very nice flavor & pretty presentation. The instructions do not say what to do w/ the soy milk -- so I added it after I pureed the vegetables. I also added salt & pepper to the sauted shitake mushrooms. Thanks for the submission -- One other suggestion: change the name of the recipe to identify it as a soup (e.g. Cream of Corn & Leek Soup w/ Shitake Mushrooms)
In a big pot, over medium heat, put half of the oil. Add the leeks and cook until they are tender.
Add the broth, the potato, the corn and the celery. Cover and let cook until the vegetable are tenders (20 minutes).
Meanwhile, in a frying pan, sauté the mushrooms in the rest of the oil. Season to taste.
Cream the soup with a blender.
Put the soup in bowls. Make a nest of mushrooms over and serve piping hot.