Cream of Parisian Vegetable Soup
Prep 10 mins
Cook 15 mins
I received this recipe about 20 years ago from a co-worker and it has become a Christmas Eve tradition. It's a quick and delicious winter supper when served with your favorite homemade bread.
Directions
Cook frozen vegetables in a saucepan with 2 cups of water until tender but not soft.
In a soup pot or Dutch oven, melt butter and saute onions and celery until tender.
Add flour and blend well.
Stir in Chicken base or Bouillon and milk. Add cooked vegetables with liquid.
Cook until thickend.
Add ham and salt and pepper to taste.
Most Helpful
This makes quite a hearty, thick soup that I ended up thinning out a teeny bit with a tad more broth. I used the chicken base. It is also very rich (lots of butter and milk). I used salt and white pepper to season. A really nice cream soup. Thanks for sharing.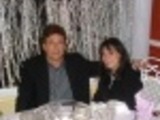 This turned out absolutely delicious. Best soup I ever made. Thank you so much
Well, this was just the ticket for using up a slice of leftover ham and a bag of frozen veggies. I think next time I will use a cup or two of chicken stock, rather than just a Tbsp of bouillon powder because this soup was almost more stew than soup. Delicious nonetheless!