Cream of Mushroom Chicken Casserole
Shawn C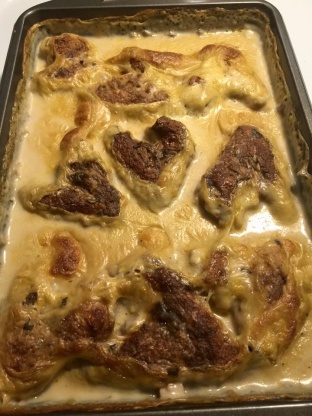 This is my specialty and my family requests it when visiting. Those who have gotten the recipe tell me they cook it several times a month. I personally use family packs of wings, the chicken comes out so tender. Ask your grocer to carry Cavendars, it is wonderful on steaks, burgers alike. Also this recipe is great for leftover fried chicken. I have included a reduced fat method too.
I put minute rice right in it and put it in the oven. Hope it turns out doing that. Used one can water with bullion paste and 1 can milk. I also found a Greek seasoning recipe that people swear is better than Cavendars. Shall see and will let you know. Sandy
Boil or fry chicken until done.
PREHEAT 375°.
FRY METHOD: Season with Cavendar's Greek seasoning mix, shake with flour and fry until completely done.
In bowl mix ingredients together beat with wire whisk.
Place chicken in deep casserole dish.
Cover chicken with soup mixture.
Bake uncovered for 1 hour.
Serve over rice (jasmine (basmati) rice is the best with this recipe).
REDUCED FAT METHOD: Boil skinless chicken until done.
Use the broth instead of the water!
You could also use the broth when cooking the rice.
This method is much lower in fat than the fried method but doesn't taste as good.
Also use the healthy request soups to lower even more in fat sodium and calories.