Cream of Jerusalem Artichoke/Sunchoke Soup
Kadoo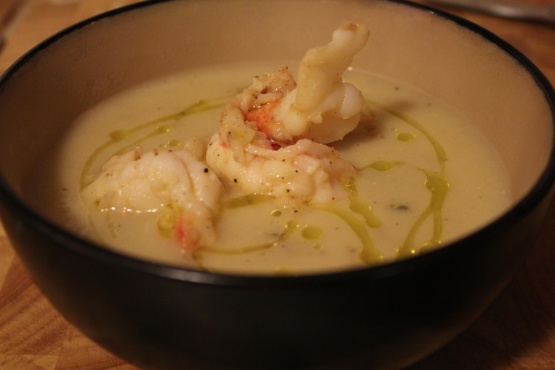 A creamy creation of Jerusalem artichokes and other fresh veggies to really bring out the flavor in this unique and delicious tuber.

This is one of my favorite veges, and the soup pays it homage - beautiful. Because this is an indulgent ingredient, I topped the soup with garlic-sauteed king prawns and a swirl of truffle oil. The saltiness of the prawns and the fragrance of the oil married brilliantly with this soup.
In a large soup pot heat olive oil over medium high heat until the scent starts to bloom.
Add onions, leeks, and garlic to pot and cook, stirring occasionally, until softened. About 5 minutes.
Add Jerusalem artichokes and potatoes and cook for 5 minutes.
Add chicken broth and bring to a boil, cover and reduce heat to keep at a low boil.
Cook 15-20 minutes, or until Jerusalem artichokes and potatoes are tender.
Reduce heat to low. Using a stick blender, or by transferring to a blender, puree soup until smooth.
Stir in cream.
In warmed soup bowls place 1/3 cup baby spinach leaves and ladle soup over until it covers spinach.