Cream of Jerusalem Artichoke Soup With Saffron Cream
Rita1652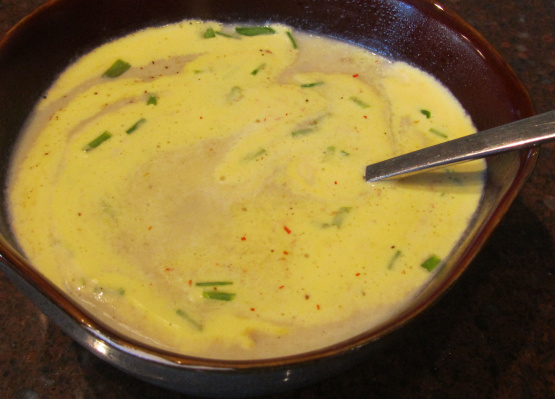 From 500 All-Time Great Recipes. If you cannot find fresh Jerusalem artichokes, feel free to substitute frozen or canned. We also like this with homemade croutons scattered on top!

Nothing better then a hot bowl of soup! This is just yummy comfort soup.My sunchokes, garlic, saffron and chives where all home grown. I was happy to still find a couple chives hanging on in the garden. I used Recipe #396007 and lots of black pepper. The saffron color infused into the cream beautifully. Nice touch. Thanks CG
4

tablespoons butter

1

onion, chopped

1

elephant garlic clove, minced

1

lb jerusalem artichoke, peeled and cut into chunks
3 1⁄4 cups fresh chicken stock or 3 1⁄4 cups fresh vegetable stock
2⁄3 cup whole milk
2⁄3 cup heavy cream

1

pinch saffron
fresh chives, for garnish
Melt the butter in a large saucepan and saute the onion and garlic until softened, stirring occasionally.
Add the Jerusalem artichokes, coating with the butter/onion mixture. Cover the pan with the lid and cook gently on medium-low for about 10-15 minutes.
Next pour in the stock and milk. Cover again and simmer for 10 minutes.
Use an immersion blender to puree the soup until smooth.
Add half the heavy cream and season soup with salt and pepper. Reheat gently.
Lightly whip the remaining heavy cream and the saffron powder together.
Ladle the soup into individual bowls and garnish each serving with a spoonful of the saffron cream.
Garnish the soup with fresh chives.
Serve immediately.