Rita1652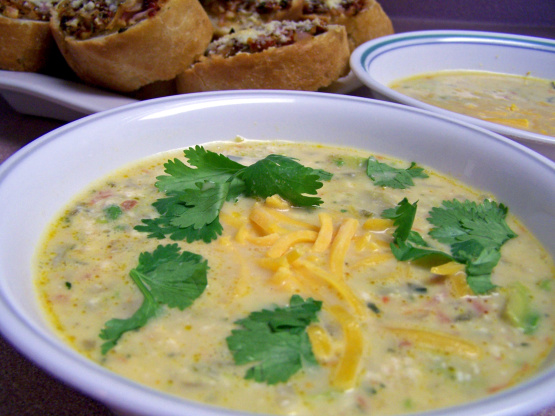 I feel guilty just posting this recipe...2 quarts of heavy cream!! I guess it is low carb, though. Low carb = healthy, right? This comes from the Reata Restaurant, by way of "Best American Recipes."

I suggest using 1 1/2 cups broth (making it less carbs) reduce to half then add heavy cream just before serving. Cooking this with all cream for 30 minutes is very hard to keep from curdling. As mine did. Hey it gave it texture. LOL! I did process in a blender for a smooth soup which took care of it. I did make 1/4 of the recipe adding some shredded cheddar cheese on top with cilantro at serving. Take heed when making this. But do make it!
Melt the butter in a large saucepan on medium heat. Saute onion, jalapenos, and garlic for 5 minutes.
Remove from the heat and stir in tomato, avocado, and cream.
Bring the mixture slowly to a simmer on low, making sure the cream doesn't separate. Cook for 1/2 hour to reduce by 1/3, stirring to prevent scorching.
Add salt and pepper to taste. Before serving, stir in cilantro, saving some for garnish.