Rita1652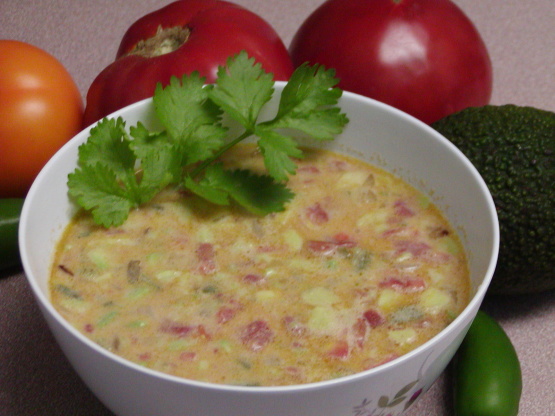 Very tasty. For a richer soup, use the heavy cream and serve small portions. To make vegetarian, just sub veggie broth for chicken stock.
Melt butter in large saucepan and sauté jalapeños, onion, and garlic for 8- 9 minutes.
Stir in tomatoes and cook for another 7 minutes (should be saucy).
Scoop avocado flesh into a small bowl and break it up coarsely with a fork.
Add to veggies, heat briefly, then stir in half& half (or cream), chicken stock, cilantro, salt, and pepper.
Simmer for 5 minutes, stirring occasionally.
Do not boil!
Remove from heat and stir in cheese.
Adjust salt and pepper as needed.