Cream of Garlic Soup With Root Vegetables
Peter J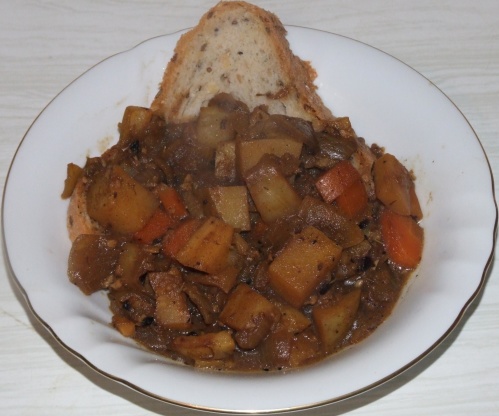 Attention Garlic Lovers! This is a recipe from Israeli chef Avi Biton of the Adora restaurant, Tel Aiv. Enjoy!

The tastiest soup I have ever had. More people need to try this recipe!! I used less organic garlic cloves because I know the tend to be stronger, I used avocado oil as I understand it's healthier to heat than olive oil, organic potato (I think a mix of red and yellow), organic carrots peeled of differnt colours, for the onions I used 1 small organic purple onion and organic leeks as that is what I had on hand, organic celeriac from our local weekly organic basket, organic parsnip, grey sea salt, freshly ground black pepper, in place of the heavy cream I mixed some lebneh (a Middle Eastern cream cheese, like very thick yogurt) with water. I didn't use any thyme actually. It was even better the next day! I sure will make this again insha Allah (God willing).
Preheat your oven to 375*F. Place 20 cloves of peeled garlic in a small baking pan, and pour over 1/4 cup olive oil. Bake 30 minutes, or until tender.
In a large pot, heat the remaining 1/4 cup olive oil and saute the root vegetables with 5 cloves garlic, 5 to 8 minutes. Add water, salt, pepper and thyme, bring to a boil and cook over medium heat 40 minutes. Add the baked garlic with its oil to the soup, and grind with a stick blender or food processor. Straiin and add the 1/2 cup heavy cream. Taste and adust seasonings. Serve and enjoy!
For a decorative presentation, serve with Puff Pastry Croutons, posted seperately.
Makes 8 servings.