Cream of Chicken and Leek Soup With Gnocchi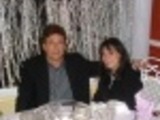 My version of this unique combination.
Directions
In a Dutch oven, heat the olive oil over medium heat. Add the leeks (white and tender green parts split lengthwise and thinly sliced crosswise), celery (from the heart with leafy tops, thinly sliced), bay leaf, salt, and pepper to taste and cook until the vegetables are soft, about 5 minutes.
Add the chicken broth and bring to a boil, about 3 minutes. Stir in the cream, lower the heat and simmer until the soup bubbles at the edges.
Add the chicken and gnocchi and cook for 5 minutes. Remove the bay leaf.
Stir in the parsley, sherry (if using), and parika; serve.
Most Helpful
I make this often the original way. I like the spinach gnocchi idea. Delicious!! I also use 2% milk in place of the cream for a lighter version and to make it more soup like I use two cartons of chicken broth. Great recipe.