Cream of Cauliflower Soup (Vegan)
RonaNZ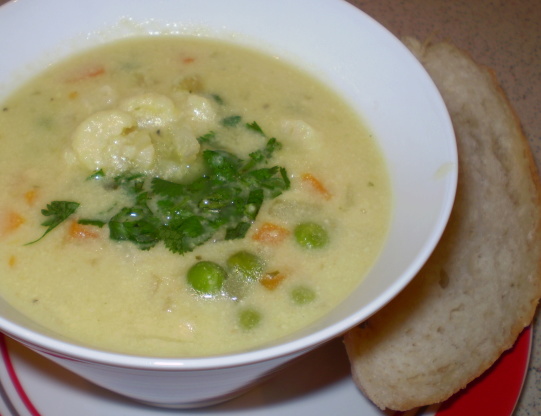 Another creamy, but vegan soup! Can't wait to try it. From "The Best of silver Hills Delicious Vegetarian Cuisine" cookbook.
In a large 4-quart pot, saute onions in olive oil until clear.
Pour in 6 cups of water, add seasonings and bring to a boil.
Add celery, potatoes and carrots, and simmer over low heat until cooked.
Place cashews and 2 cups water in a blender and blend until creamy and smooth.
Add blended mixture to soup stock and bring to a boil, stirring consantly. Reduce heat.
Add fresh cauliflower and peas 5 minutes before serving.