Cream of Cauliflower Soup
Annacia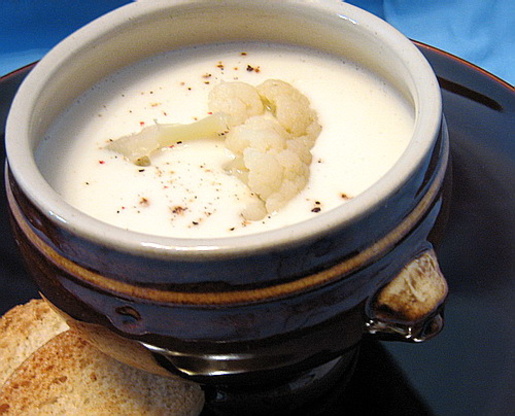 This is a wonderful fall or winter comfort food. The recipe can use either cauliflower or broccoli. UPDATE: I need to mention that I usually reserve some of the cauliflower pieces on the side before I blend, so I get a mixture of creaminess as well as some chunky pieces as an end result. You may want to try this.

Great recipe! I did make a few changes which greatly enhanced the flavour of this soup. I used fat free half and half in place of the milk. I added 1/2 tsp. dried thyme and 1/2 tsp. dried basil. I added about 1/4 tsp white pepper and a smidgie of msg. This went together so quickly I will be using this recipe often. Thanks for a super recipe.
Chop cauliflower and leeks.
Simmer cauliflower and leeks in broth for 30 minutes.
Blend in blender to desired consistency.
Melt butter in deep skillet and add flour.
Gradually add milk while whisking until thick.
Add all and season to taste.