Cream of Cauliflower Cheese Soup
Parsley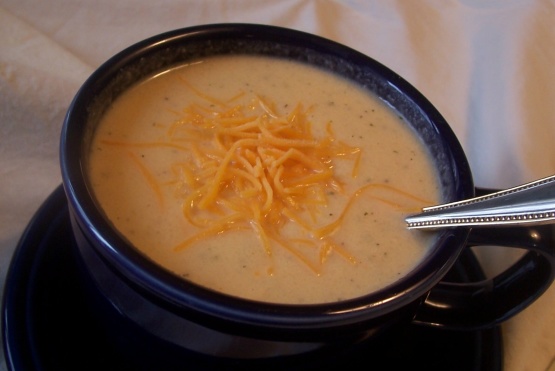 I love this soup! My kids like it pureed really smooth, but I tend to like it a little "lumpier." You can puree it as smooth as you like.

I had to change it a little just because I didn't have everything. I used regular cream cheese, chicken bouillon cubes, evaporated milk (the whole 12 oz can), garlic salt (and omitted the other salt), and no parsley. I also used sharp cheddar because my dad's cardiologist said you can less sharp cheddar for the same taste. I used 1 cup- next time I might use a little more than that.
Place cauliflower flowerets, chopped onion, and garlic in a large pot. Pour in just enough water to almost cover (but not quite) cover the cauliflower. Add boullion cubes and bring to a boil; cook until cauliflower is very tender -- about 10-12 minutes.
Lower heat medium.
Add in cream cheese and half and half; stir well. Add in salt, pepper, paprika and parsley; stir and heat through.
Add in shredded cheese; stir frequently until heated through and cheese is melted.
Remove from heat. Puree in batches in blender or food processor. Serve.