Boomette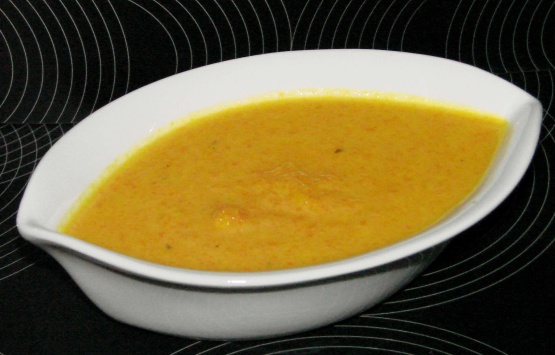 I made this with fat-free half & half to lighten it up a bit. I couldn't tell from the original recipe whether to simmer the carrots covered or uncovered - doing it covered made a fairly thin soup. If you want a thicker soup, I'd imagine leaving it uncovered would help. From The Joy of Cooking.
Heat butter and 1/4 cup of stock in a large soup pot over medium-low heat, until butter is melted.
Add onions, ginger, and curry powder and cover.
Cook, stirring occasionally, until onions are softened but not browned.
Add remaining stock, orange juice, and carrots.
Bring to a boil.
Reduce heat and simmer, covered, for 15 minutes (or until carrots are tender).
Puree soup.
Return to pot, add cream or milk, black pepper, and season with salt to taste.
Simmer until warmed through and serve.