Cream of Carrot and Honey Soup
Peter J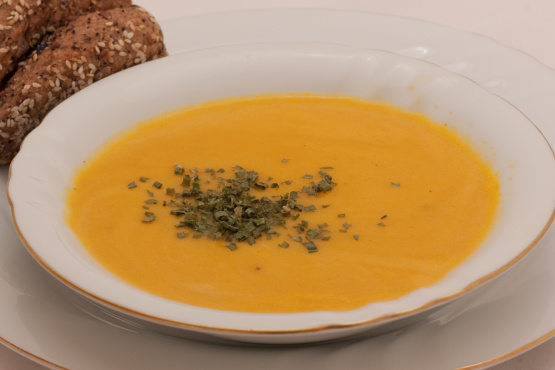 This is a really nice, quick and easy comfort soup. Wonderful on a cold day, with some crusty bread! I use a salt reduced,chicken stock instead of vegetable stock, but it is just as nice with either.

Yum! The honey and garlic really set this off and it had a wonderful aroma while cooking. Only change I made was a few local stores were out of fresh parsley so I used dried chives to garnish instead. I served warm thickened with a little cornflour but also think it would be great served at room temperature during warmer months as well.
Slice carrots (peel if using larger carrots) and put into a saucepan with the vegetable stock, honey, garlic and salt.
Bring to boil, reduce the heat and simmer for 30 minutes or until the carrots are tender.
Adjust seasonings to your taste.
Puree in a processor or blender and process, gently reheat before stirring in cream.
Do not boil once cream is added.
Serve sprinkled with chopped parsley.
N.B.~ If soup requires thickening (it is a personal preference) make a paste of a little cornflour and water mix well before adding to soup.