Cream of Caramelized Onion and Mushroom Soup
Diana 2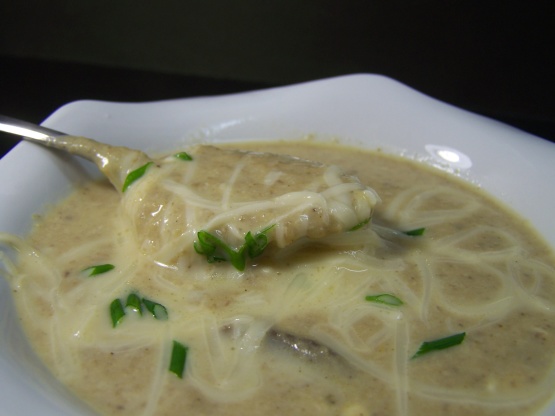 This soup is very flavourful, easy, and pretty, and a steaming bowl of it, with a slice of toasted sourdough or wholegrain bread, makes for a deeply satisfying meal.

I thought this was quite good, and I know I will make this again and again. I tend to prefer a chunky soup, so I didn't puree the mixture but rather just let the ingredients do as they will after simmering the soup to perfection. I thought the trio of half-n-half, ricotta and swiss cheese was just a little much, so I will probably skip one of those ingredients the next time I make this (maybe the ricotta ??). But I thought the portabella mushrooms added such a wonderful earthy flavor that I would never have thought to include in a soup, so I am quite glad to have discovered that secret as a result of participating in this RSC contest. I didn't have any pros or cons about the carrots or celery, but I would probably leave them out next time too, only so the full earthy flavor of the portabellas can shine through. All in all, this was a creative and tasty entry that I most definitely will make again. Good luck with RSC #16, chef.
1

tablespoon butter
1⁄2 tablespoon olive oil

1

lb sweet onion, peeled, cut in half, cut thin crosswise

1

lb portabella mushroom, cleaned, cut in slices

1

stalk celery, chopped

1

large carrot, chopped

2

garlic cloves, minced
1⁄2 teaspoon salt

4

cups chicken stock (a little more may be required to thin soup if too thick)
1 1⁄2 teaspoons dried thyme or 1 1⁄2 teaspoons dried herbes de provence

1

small bay leaf
1⁄2 cup half-and-half

4

ounces part-skim ricotta cheese

4

ounces swiss cheese, grated
salt and freshly-cracked black pepper, to taste
minced fresh parsley (to garnish)
Melt 1 tablespoon butter with 1/2 tablespoon olive oil in saucepan over medium heat. Add onions and saute, stirring every few minutes, until they are caramelized, about 15-20 minutes. Add the mushrooms, celery, carrot, garlic and salt, and saute, stirring occasionally, for a further 5 minutes. Add chicken stock, thyme (or herbes de provence) and bay leaf to saucepan. Reduce temperature to a slow boil and cook, covered, for 15-20 minutes longer, or until vegetables are tender. Remove from heat. Discard bay leaf.
(Carefully) blend soup in batches, either in blender, or using immersion blender, until soup is mostly pureed, leaving a bit of texture in the vegetables. Return to saucepan and over a low heat, whisk in half and half, ricotta and swiss cheeses, until cheeses have entirely melted into the soup. (If soup is too thick, thin with a little more hot broth). Season to suit your taste with salt and freshly-cracked black pepper.
Serve in deep bowls, garnished with a sprinkle of minced, fresh parsley.