Cream of Barley and Dill Soup
Rita1652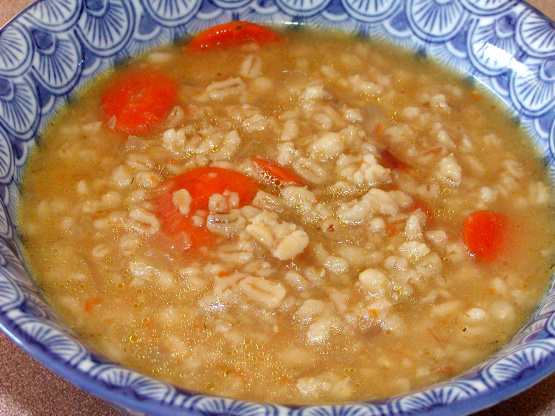 Have lots of dill at the moment as the stores won't sell just one sprig. :-) That sent me looking for new recipes to use up my bounty. I just love barley in soups so this appealed to me.
Top Review by Ilysse
I loved this and it was very easy to make. Rather than pour into a blender I used my hand blender right in the pot and blended it until I felt it was the right consistency. I did feel I wanted it a touch thicker so I added a little cornstarch to thicken and it worked great. I will make this again, even if my 7 year old didn't care for it...oh, over the summer we grew dill. I saved it by chopping and freezing in an ice cube tray. I just popped a few ice cubes right in the soup as it cooked.
Over moderate heat, begin to saute the shallots with oil in a large sauce pan or stockpot. Cook for 5 minutes or so until the shallots are tender and have begun to brown. If the shallots begin to dry, add a tablespoon or so of water.
Add the barley to the pot and cook for 1 minute, stirring frequently. Pour broth and 3 cups of water into the pot. Cover with lid and cook 10-15 minutes until the barley is tender. (Check the package instructions for suggested cooking time.).
If you are adding the carrots, cook in a separate saucepan in water for 5 minutes until tender but firm.
Pour barley and broth into a colander sitting in a larger bowl to collect liquid. Take half the barley and shallots, all of the liquid and 2 tablespoons of sour cream and place in a blender. Puree until smooth.
Transfer the contents of the blender back to the pot. Add whole/unblended barley and shallots (and carrots if using) to the creamed mixture and stir until well mixed. Season with salt and pepper to taste.
Divide soup among serving bowls. Thin remaining tablespoon sour cream with remaining tablespoon water and drizzle over soup. Sprinkle with dill.