Cream Dressing for Lettuce Salad - German Dressing
COOKGIRl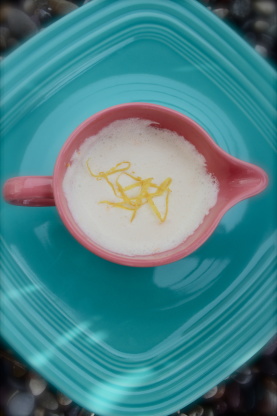 Posting for ZWT 6 and another recipe from About.com for German recipes. Recipe states: Mix this salad dressing ("Salatsauce") in the bottom of the bowl and then add lettuce. Toss to coat and serve. I personally don't care for a too sweet salad dressing, so I would just but a teaspoon for us, but that is up to personal preference. Serve with any veggies of your choice along with the lettuce. Also add cheese of choice and croutons if you like and I personally would add garlic salt/powder.

Lovely, creamy dressing! I used mostly whole milk but subbed with a small amount of
heavy cream. Used white pepper to keep the color well, white and the big change was substituting Meyer lemon juice for standard. Added about 1 teaspoon finely grated Meyer lemon zest, too. Tastes best when the dressing is prepared at least several hours in advance. Tested on a very simple salad of lightly wilted 'lacinto' kale (wilted with a few teaspoons of lemon juice), baby spinach, baby arugula and for color a few strands of shaved carrot. Reviewed for Best of 2011.
Whisk the three ingredients together until the sugar dissolves. Add a little milk to thin, if necessary. Add salad (lettuce, tomatoes, etc.) shortly before serving and toss to coat.
Tip: Use crisp lettuce types for the salad. This dressed salad goes well with Wienerschnitzel or bratwurst.