Cream Cheese Tarts (Paula Deen)
Joyd9060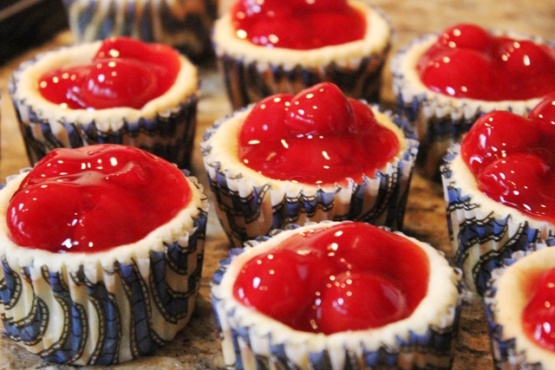 A wonderful little cheesecake for a dessert buffet. It is incredibly easy to make and looks and tastes very impressive. I saw Paula Deen make them on FoodTV and I couldn't wait to try them myself. Use canned pie filling, fresh fruit or use your imagination!

I'm singin', "Ain't no Scrooge in me. Ain't no Scrooge in me"! I did adapt the recipe slightly from my usual sour cream-topped standby. I doubled the recipe to make 24, baking just short (about 2 minutes) of the 20 minute baking time--turning off oven. I had prepared, in the meantime, 2 cups sour cream with a 1/2 cup sugar, stirring to dissolve sugar. After waiting about a minute or so for the puffed cakes to sink slightly, I topped each with the sweetened sour cream mixture, dividing evenly among the 24 cakes. Immediately, I replaced the cakes into the already heated oven for an additional 2 minutes to set the sour cream topping. A fruit topping adds a festive touch covering the imperfections that naturally arise during baking. These tasty treats will make a believer out of ya for sure!
Preheat oven to 350°F.
Place a paper cupcake liner in each cup (12 total) of muffin pan.
Beat cream cheese with electric mixer until fluffy. Add sugar and vanilla, beating well. Add eggs, one at a time, beating well after each.
Place a vanilla wafer FLAT side down, in each muffin cup. Spoon cream cheese mixture over wafers filling each to about 1/4 inch from top of paper.
Bake for 20 minutes.
Allow tarts to cool completely before filling. When you remove the tarts from the oven, they will be puffed up, but as they cool, the center will sink, creating the perfect well to fill with a couple of spoonfuls of your favorite filling.
Chill thoroughly before serving.