Cream Cheese Stuffed Garlic Burgers
Wildflour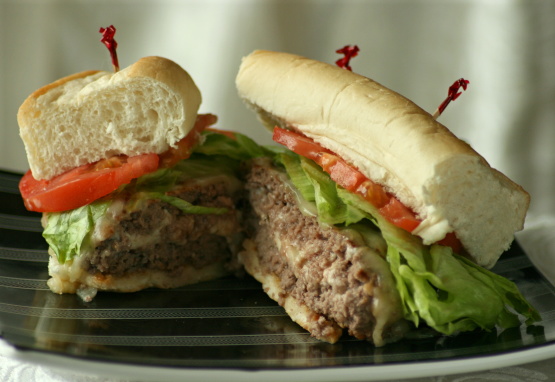 I got this recipe from a grilling cookbook. I thought I was in burger heaven when I took a bite of this hamburger. The cream cheese just seeps out of these garlic burgers. Mmmm... their good!

I made a few subsitutions out of necessity. I halved the recipe b/c there are only 2 of us in the house, and I used ground turkey b/c that's all I had on hand. I didn't have quite enough minced garlic, so I used 3tbsp minced garlic and then added garlic powder and onion power too. I also added a splash of worcestershire sauce b/c I do that any time I make burgers. Finally, the store didn't have the garlic and herb cream cheese so we used onion and chive cream cheese. These were delicious! I cooked them on the George Foreman grill, but I did it with the grill open and cooked them for 5 mins on each side and then 2 mins with the grill closed to make sure they were good and stuck together. The garlic flavor, even w/o the garlic cream cheese, was wonderful and the cheese in the middle was a treat. I do think I may add a little heat next time, perhaps a splash or two of sriracha sauce, but that's just a personal preference thing. Thank you for a delicious burger recipe.
Put hamburger meat in a bowl and add garlic, salt and pepper.
Mix together with your hands until just blended.
Make 12 patties no more than 1 inch thick.
Spread cream cheese in the center if 6 patties, approximately 1 oz. per patty. (Don't spread all the way to the edge).
Put remaining patties on top of the cream cheese and seal the ends all the way around with your fingers. (Don't pinch too hard or the ends will be too thin).
Grill on high to your desired taste. (About 8-10 minutes).
Note: It takes a little longer than normal for the meat to cook inside because of the cream cheese.