Cream Cheese Strawberry Pie
2Bleu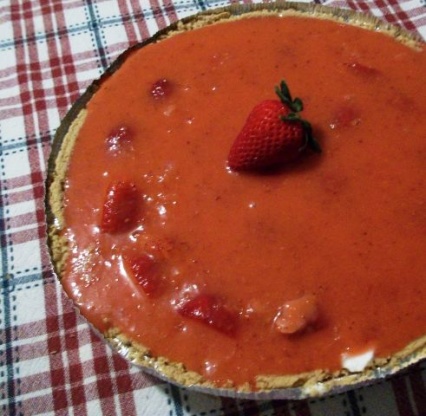 This pie is just SO delicious - another one of my MIL's delights. Besides the pie shell there is no baking involved. The contrast between the cream cheese filling, strawberries and slight almond taste is what makes this pie.

Well, I did some juggling with the ingredients when it came to making this pie! I did a 9-inch deep dish pie & doubled the cream cheese filling ingredients, then used about 5 cups of fresh strawberries in the pie! After that I cut the sugar in the sauce back to 1/2 cup because the berries I used there were very, very sweet! Since it was extremely deep dish, I cut the pie into 10 slices & we were extremely satisfied with the wonderful flavor! Thanks so much for sharing it with us! [Made & reviewed in Newest Zaar Tag]
Mix cream cheese, milk, almond extract and sugar in a mixer until well blended. Spread in bottom of pie shell.
Place the fresh strawberries on top of the cream cheese mix.
In a sauce pan combine water (1/4 cup), 2 cups fresh/frozen strawberries, sugar and warm through until the strawberries are soft enough to mush. In a small bowl add a bit of water to the corn stach and stir until dissolved. Add to strawberry sauce and continue stirring over heat until the sauce thickens and turns clear. This may take 2-4 minute Add more water if too thick, Remove from heat and stir in butter.
Pour strawberry sauce over the cream cheese + strawberries. Let set and cool before serving.