Cream Cheese Spritz Cookies
Joan H.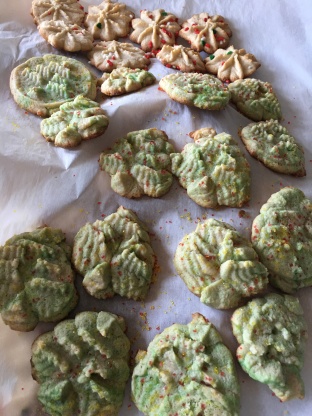 I got this recipe from the book entitled The Spirit of Christmas. Originally my mom had this recipe and it was a holiday staple in our house for years.

I received a Wilton Cookie Pro Ultra Spritz cookie maker for Christmas last year. I was searching for a recipe since the one provided on the box failed. These turned out great! I divided the dough and colored one red and the other green. These were very easy to make. I altered the flavoring just a little by adding 1/2 teaspoon of Almond extrac and 1/2 teaspoon of Vanilla. I also took the extra egg white and made a glaze paste with decorative sprinkles over the cookies just before putting in the oven.
Cream shortening and cream cheese.
Gradually add sugar and mix well.
Beat in egg yolk and vanilla.
Sift flour with salt and cinnamon; gradually add to cream mixture.
Add food coloring if desired.
Fill cookie press and form cookies on ungreased cookie sheets.
Bake in a preheated 350 degree oven for 12-15 minutes.
Cool before removing from baking dish.