Cream Cheese Scrambled Eggs
ImPat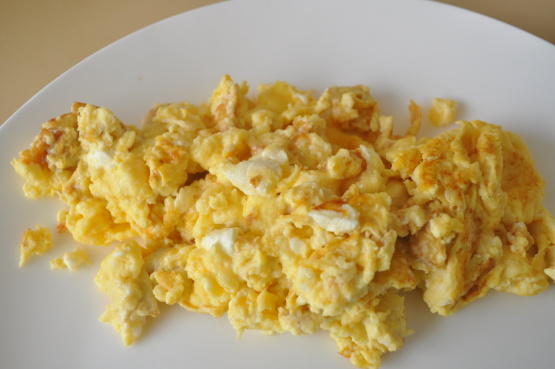 Basically just creamier scrambled eggs

I wanted so much to like these eggs, but my husband and I didn't care for them. The recipe states to make in an ungreased frying pan, but I lightly sprayed the skillet I was using. I wished I'd of added bit more cooking spray though, as the eggs stuck to the pan, and I used a non-stick skillet. I'm sorry I couldn't give this recipe a better review, but I am glad to see others enjoyed the recipe.
Crack all the eggs into a bowl,add milk, and wisk until smooth.
Heat ungreased frying pan on stove.
Pour egg mixture into frying pan.
Stir occasionally on high heat until eggs are cooked 2/3 the way.
Add cheeses (cream cheese included) salt, and pepper.
Cook until consistancy desired.
Serve and enjoy!