Cream Cheese Pound Cake With Strawberries and Cream
Bev I Am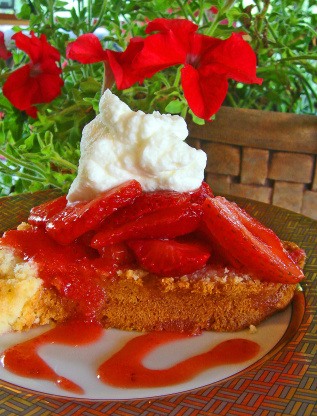 Use my recipe for Strawberry Sauce (Strawberry Sauce) with this recipe. You won't be disappointed. It's a winner! From Southern Living.

Wow Bev, this is yummy! My aunt brought me strawberry picking over the weekend and I made her this cake as a thank-you gift. She loved it! The cake was moist and smells SOOoo GOOD when baking! I bake about twice a year and never with much success, but this was really easy. Actually I don't even have an eletric mixer, but with the help of BF, the result was still good. Midway through baking I found the cake was already browned but the cake's not done yet (must be because I have small oven), so I cover the pan with aluminum foil and continue baking. It wasn't a problem. I omitted the syrup because I don't have it and becuase the strawberries were already very sweet. Thank you again for this great recipe, I am so glad my aunt loved it! :D!!
Sprinkle sliced strawberries with 2 tablespoons sugar; cover and chill until ready to serve.
Beat butter and cream cheese at medium speed with an electric mixer until creamy; gradually add 2 1/2 cups sugar, beating well.
Add eggs, l at a time, beating until combined.
Stir in flour by hand just until moistened.
Stir in salt and vanilla.
Pour batter into a greased and floured 10-inch tube pan.
Bake at 300° for 1 hour and 50 minutes or until a wooden pick inserted in center comes out clean.
Cool in pan on a wire rack 10 to 15 minutes; remove from pan, and let cool completely on wire rack.
Cut into slices.
Beat whipping cream and 3 tablespoons sugar at high speed with an electric mixer until stiff peaks form.
Serve with cake; top with strawberry mixture, and drizzle with Strawberry Syrup.
Garnish, if desired.
Note: Great results for this recipe were gotten from using a hand mixer and then stirring the flour in by hand.
High-powered stand mixers can over beat some pound cakes, giving them a tough texture.