Juenessa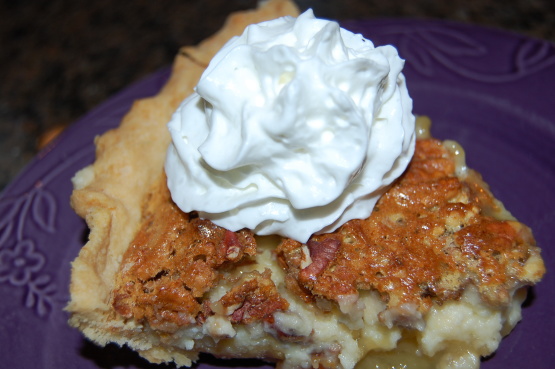 Awesome! Just one bit of advise- I wasn't able to pour all of the topping on the pecans so next time I will lessen the cream cheese filling so that I can put all the topping syrupy stuff on it.
Set oven to 375 degrees.
In a bowl, beat together the cream cheese, 1 egg 1/2 cup sugar, salt and 1 tsp vanilla, until well blended.
Spread into unbaked pie crust; sprinkle with chopped pecans.
In another bowl, beat 3 eggs, corn syrup, 1/4 cup sugar and 1 tsp vanilla until well blended.
Pour the mixture over the cream cheese and pecans (that is already in the crust).
Place the pie on the lower rack in oven (Place the pie on a cookie sheet to prevent any spills).
Bake for 40-45 minutes, or until center is firm.