Cream Cheese, Olive, and Nuts Spread
Ms B.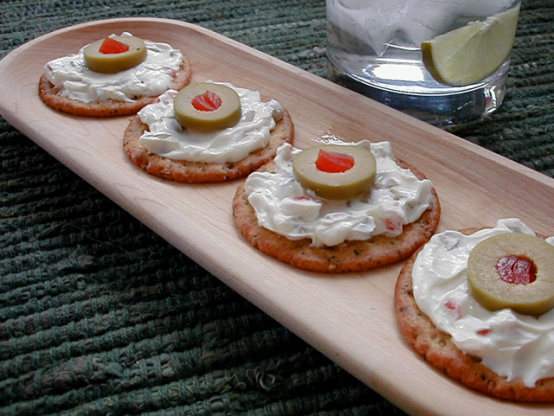 This spread has always been a favorite of mine, but it must have nuts for texture. For a party, It's delicious and elegant on nut bread. Always a hit, with everyone wondering what's in it. People find it very interesting and different from most dips and spreads.

I grew up on this also. We would buy a jar of green olives and 1 package of cream cheese, empty some of the juice, add the jar of olives to a food processor and blend a few seconds. We then add the cream cheese and let blend until completely mixed. Easy! Not only do we eat this on bread, we eat it on pretzels too! Yum!
1

(8 ounce) package cream cheese

1

(8 ounce) jargreen olives with pimentos
walnuts, 1/2 Cup, chopped
nut bread, thinly sliced or Cut with small cookie cutter for hors d'oeuvres
Add olive juice a little at a time to room temperature cream cheese and whip until light and fluffy.
Chop the olives and walnuts and add to cream cheese mixture.