Cream Cheese Muffin Puffs
Karen..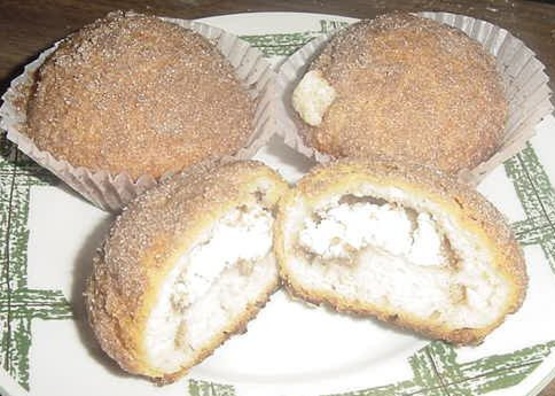 My mother in law had this recipe and I just had to try it. As a variation, instead of rolling the cheese in the sugar I add a 1/4 t of strawberry or blueberry jam before folding the dough over.

What a great idea! I mixed 3 oz crm chz with a little vanilla and 1 tbsp sugar, then beat until fluffy. This made a bit too much, even filling the biscuits quite full. I used this and a dab raspberry pie filling. A few of them leaked in the oven, but it didn't burn, and they were still very good. I also used butter rather than margarine. I baked these for 12 mins, to golden perfection. We had them for Sunday morning breakfast. Thanks for sharing, Mysterygirl!
Heat oven to 375°.
Melt margarine in a bowl.
Cut cream cheese into 10 cubes.
In a second small bowl, combine sugar, cinnamon and extract.
Dip cheese cube in sugar mixture, then place in the center of a biscuit.
Fold dough over cheese, pinching to seal.
Roll dough into ball, dip the doughball into margarine and then the sugar mixture again.
Place seam side down in an ungreased muffin tin.
Repeat with the remaining 9 biscuits and cheese cubes.
Bake for 12-18 minutes at 375° or until golden brown.