Chickee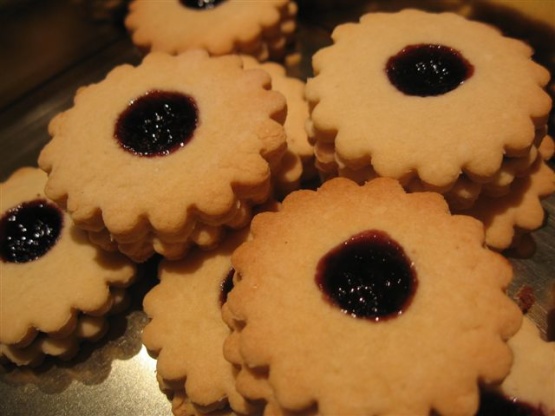 This recipe was originally from a magazine- a few years ago now. This biscuit has a beautiful texture and topped with jam and slivered almonds. Everybody who has tried these tell me they are wonderful....as for me-I'm gluten free so unable to have these biscuits. These biscuits look divine!

This biscuit is quite a bit different to what I expected- they are not very sweet, and the dough really quite thick, texture is not as crumbly as a shortbread. I added a bit more sugar. I rolled them out quite thinly, then made the biscuits into a sandwich with a little jam in between before baking. Not too much! The jam did make them sweeter. Thanks for a different style biscuit.
Preheat oven to 180°C Line two flat baking trays with non-stick baking paper.
Cream the butter and cream cheese until light and fluffy. Add sugar and the vanilla. Beat until the sugar has dissolved. Add egg -beat until well combined.
Using a metal spoon, fold flour into butter mixture.
Using your hands, press the dough together. Turn onto a lightly floured surface. Roll out until 0.5cm thick.
Using a 6cm round biscuit cutter, cut rounds from dough.
Place rounds on prepared trays. Spoon 1/2 teaspoon jam into the centre of each biscuit. Sprinkle tops with almonds.Do not be tempted to add too much jam as it will melt off the biscuit.
Bake for 15 to 20 minutes, or until light golden.
Allow biscuits to cool on trays. Dust with icing sugar mixture.